Our major project for the Winter this year is to repair and repaint locomotive #2, our 1955 GE 65 ton center cab. The tear down of engine is already in process plus we are working on the inside of the cab. Gauges have been sent out to be certified and the entire instrument panel has already been restored. We are still in the mode of paint chip removal and hope to be painting the cab interior shortly. Look for further updates as we make more progress on our main passenger train motive power.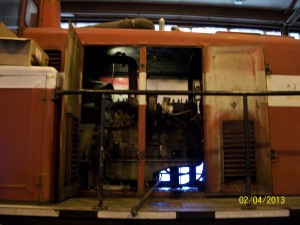 Locomotive #2 will be painted the same paint scheme but with the passenger coach red and crème instead of bright red and white.
Click on the pictures to see them larger.
She's done and back on the main track!