Benjamin L. Bernhart, who is the Reading Railroad Museum curator, wrote an article for the January 2010 issue of Reading Railroad Magazine. It is titled Moving Milk on the Reading and gives us another clue into why the M&H is sometimes referred to as the milk & honey railroad. Following is an excerpt from that article: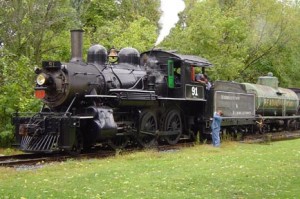 Milk operations were at their height between 1910 and 1920. The Reading Railroad was moving between 3000 and 4000 cans daily. Every day, early in the morning, a special milk train left Harrisburg for Philadephia. The train began its journey with cars of milk gathered from the Gettysburg Brand and the PH&P Branch that morning.
Additional milk was taken on at the junction of the Middletown & Hummelstown Branch, just west of Hershey.
Milk cars were added at Lebanon from the Lebanon & Tremont Branch. At Reading, milk cars were added from the Reading and Columbia Branch, Wilmington & Northern, Schuylkill & Lehigh, and the East Penn Branches. East of Reading milk was added at Douglasville, Phoenixville, and the Pickering Branch finally arriving at 3rd & Berks Streets in Philadelphia late that night for process and sale in Philly the next morning. So think of the Reading Railroad as a big river of milk stretching from Harrisburg to Philly with tributary streams like the M&H.