October Regular Train Rides:
(Saturdays) 4, 11, 18, 25 at Noon and 1:30pm
(Sundays) 5, 12, 19, 26 at Noon and 1:30pm
October Special Events:
Mixed Freight Ride with Photo Runby (NEW!) Sat Oct 4
Leaving at 3:30pm.
Murder Mystery Dinner Train October 11 (2 1/2 hrs round trip) Departing 6:00 pm
Pumpkin Patch Train Rides (1.5 -­ 2  hrs)
Oct 18, 19, 25 & 26 leaving at 3:30 pm.
November Special Events:
Murder Mystery Dinner Train November 15 (2 1/2 hrs round trip) Departing 6:00 pm
Santa's Surprise Train November 29 at 11:00am and 1:30pm
Polar Bear Express November 29 at 5:00pm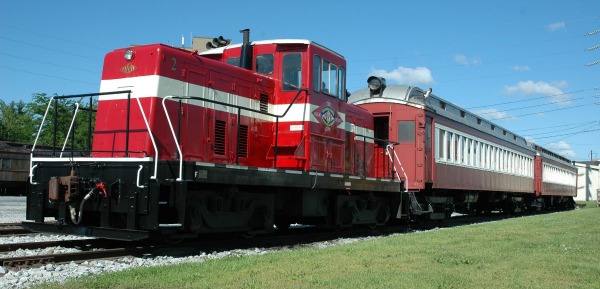 Visitors will enjoy an 11 mile train ride along the Swatara Creek, while learning the history of the area. Passengers board our 1920's vintage, Delaware, Lackawanna & Western coaches at our 1891 Freight Station in Middletown, Pennsylvania. While in Middletown browse the gift shop or relax on the porch and visit with other folks from near and far.
After leaving Middletown, the train follows the towpath of the historic Union Canal and alongside the peaceful Swatara. The narrator relates the history of the Canal (completed in 1827), the location of Canal Lock #33, a century old limekiln and the folkore about Horse Thief Cave.
On the return trip, you will enjoy a "sing-along" of tunes from the railroading days, as well as fun songs for young and old alike.