Welcome to the 2015 operating season on the M&H!



Our regularly scheduled tourist train rides will are continuing throughout the summer and fall seasons. Please see our full regular schedule on the "Schedule & Important Information" page, or click on the "2015 Brochure" link below. Please also see all of the special events coming up outside of our regular rides. We have caboose rides, dinner trains, pumpkin patch, Santa and other specialities for many tastes.
GRANDPARENTS DAY WEEKEND:
In honor of grandparents, on our regularly-scheduled weekend train rides on Saturday & Sunday 5 & 6 September 2015 only, we offer a special Grandparents Fare of $5.00 when they ride along with a paying grandchild 2 years of age or older at the regular children's fare. Trains depart Middletown at Noon and 1:30pm both days.
++++++++++++++++++++++++++++++++++++++++++++++++++++++
CIVIL WAR REMEMBERED (Civil War Re-enactment)
Saturday 19 Sept., Departs Middletown at 11:00am & 2:30pm.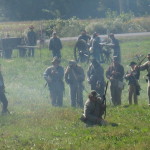 Sunday 20 Sept., Departs Middletown at 11:00am.
A different battle scenario every year, all of the action occurs in fields along side the train. Come and get a new lesson in Civil War History. Now in our 15th year of this remembrance.
Fares: Adult: $22.00   Child 6-11: $12.00
PLEASE NOTE: These re-enactment scenarios use live ammunition, real cannon shots, and produce a lot of loud noise and explosions. May not be suitable for young children. The railroad is not responsible for frightened children; we recommend using your best judgement if planning to bring young children on these trains.
++++++++++++++++++++++++++++++++++++++++++++++++++++++
Please put these on your Planner Book….  Our popular Murder Mystery Dinner Trains begin their Fall season in September. The dates are 9/26, 10/10, 10/31, and 11/14. Please go to the schedules page under "Special Events" for full details, fares, and departure times.
________________________________________________________________________
The Middletown & Hummelstown Railroad is a 24/7 line-haul freight railroad. We offer freight cartage
and switching services. For freight rates, industrial development, and other general freight information,
please click the "FREIGHT" tab at the top of this page.
__________________________________________________________________________________________________________________________________________________________
Hope to see you on the train!
+++++++++++++++++++++++++++++++++++++++++++++++++++++++++++++++++++++++++++++++++++++++++++++++++++++++++++++++++++++++++++++++++++++++++++++++
See 
2015 Brochure
for more information, or click "SCHEDULE" button above to preview train rides and upcoming events for 2015.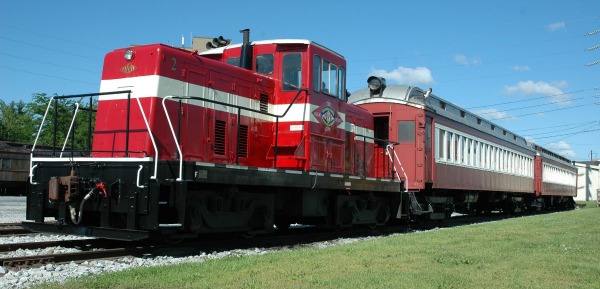 Visitors enjoy an 11-mile round-trip train ride along the Swatara Creek, while learning the history of the area. Passengers board our 1920's vintage Delaware, Lackawanna & Western coaches at our 1891 Freight Station in Middletown, Pennsylvania. Although originally built as a freight station, it has been converted for use as a passenger station, complete with a gift shop and modern ADA restrooms. While in Middletown, you may browse the gift shop or relax on the porch and visit with folks from near and far.
After leaving Middletown, the train follows the towpath of the historic Union Canal and alongside the peaceful Swatara. A live narration relates the history of the canal which was completed in 1827, much of which is still visible, (including canal locks), other historical artifacts, folklore about Horse Thief Cave, and many more fun facts about the rail line and south-central Pennsylvania.
On the return trip, train crew are available to talk with you, answer questions, and serve you with light refreshments from the on-board snack concession.