Welcome to the 2016 Operating Season on the M&H Railroad!
_________________________________________________________
For M&H freight information, please click the "FREIGHT" tab above.
____________________
_________________________________________________
 

Regular Train Rides for the season are operating on weekends during October at Noon and 1:30p. Click "Schedule" above for details of train days and times.



♦ ♦ ♦ ♦ ♦ ♦
The annual Murder Mystery Dinner Trains operate Oct. 29 & Nov. 12.
Check the "Schedule" page for complete details, time and fare information.
October 29:

SOLD OUT

;  November 12:

SOLD OUT
We do occasionally have people cancel their reservations, so please feel free to call in and get on the waiting list. Earliest callers will be called back first.




♦   Χρ   ♦

Can't hardly believe it's that time of year already! Santa Claus will soon be paying his annual visits to the M&H Railroad.

The Santa's Surprise Trains and the Polar Bear Express Trains begin Saturday 26 November. Reservations are required for these trains. Please click the "Schedule & Important Information" tab at the top of this page, and scroll down for the complete schedule, fare, and reservation information. Please read carefully as the times are different for Friday trains than on the weekend days.  Polar Bear Express trains run after dark, and do not feature outside scenery, rather the trip is centered upon the on-board activities.

Χρ – Chi rho – Remember the Reason for the Season.
+++++++++++++++++++++++++++++++++++++++++++++++++++++++++++++++++++++++++++++++++++++++
Hope to see you on the train!
+++++++++++++++++++++++++++++++++++++++++++++++++++++++++++++++++++++++++++++++++++++++
See 
2016 Brochure
for more information, or click "SCHEDULE" button above to preview train rides and upcoming events for 2016.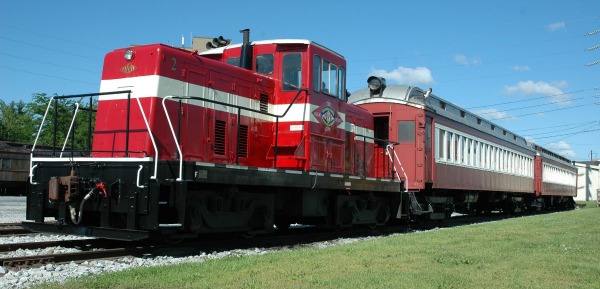 Visitors are treated to an 11-mile round-trip train ride along the Swatara Creek, while learning the history of the area, the Union Canal, and the railroad from a live narration. Passengers board our 1920's vintage Delaware, Lackawanna & Western coaches at our 1891 Freight Station in Middletown, Pennsylvania. Although originally built as a freight station, it has been converted for use as a passenger station, complete with a gift shop and modern ADA restrooms. While in Middletown, you may browse the gift shop or relax on the porch and visit with folks from near and far.
After leaving Middletown, the train travels north toward Hummelstown following the towpath of the canal completed in 1827,  much of which is still visible, (including canal locks) alongside the peaceful Swatara. The narration tells of other historical artifacts, folklore about Horse Thief Cave, and many more fun facts about the rail line and south-central Pennsylvania.
On the return trip, train crew are available to talk with you, answer questions, and serve you with light refreshments from the on-board snack concession. All proceeds from the snack bar go to preservation of our historic equipment through our "Spare to Repair" program. Your spare change helps maintain our century-old passenger coaches.