---
WELCOME TO THE 2017 OPERATING SEASON ON THE M&H RAILROAD!
Schedules are adhered to as much as possible; however we reserve the right to alter schedule and / or make equipment changes. Please note that fares, dates, & times are all subject to change.
---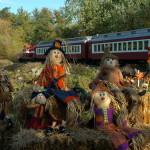 PUMPKIN PATCH TRAIN RIDES    (1-1/2 to 2 hours)
Saturday & Sunday October 14, 15, 21, 22. Trains depart Middletown at 3:30pm.

Train stops at a field along the line where each child may step out and select their very own pumpkin. Don't forget your camera to record the memories of the day and take photos with the friendly scarecrows and Raggedy Ann! Check the sky before you come… please wear weather-appropriate clothing and shoes. Children 11 and younger are encouraged to come in costume.
Fares: Adult (12+): $17    Child (2-11): $14    Infant (under 2): $4
---
MURDER MYSTERY DINNER TRAINS
SOLD OUT
*Dinner train trips last about 2-1/2 hours*
Saturday: October 7, October 28, November 11
Departs Middletown at 6:00 pm sharp
UPDATE:

All 2017 Murder Mystery Dinner Trains are now SOLD OUT

Dinner and a mystery on board the train, and you're the sleuth! Enjoy a delicious hot meal served at your table while you ponder the clues and figure out whodunnit. It's a mystery, but it's no mystery that someone wins train tickets for another M&H regular-schedule ride. Each of the three trips features a different theme, so for those of you who are really a Holmes & Watson, come and try to solve them all! Your fare covers your train ride, meal, and entertainment (gratuities not included).

Adult Fare (age 15 and up) is $65
Not recommended for children.

RESERVATIONS MUST BE MADE BY CLOSE OF BUSINESS ON THE MONDAY PRIOR TO YOUR TRIP TO GUARANTEE MEAL CHOICE !

---

Please see our SCHEDULE page for all dates & times of operation
---
---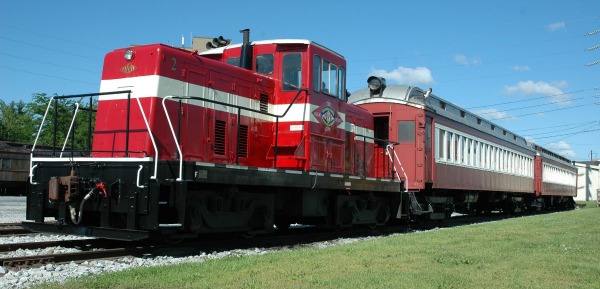 Visitors are treated to an 11-mile round-trip train ride along the Swatara Creek, while learning the history of the area, the Union Canal, and the railroad from a live narration. Passengers board our 1920's vintage Delaware, Lackawanna & Western coaches at our 1891 Freight Station in Middletown, Pennsylvania. Although originally built as a freight station, it has been converted for use as a passenger station, complete with a gift shop and modern ADA restrooms. While in Middletown, you may browse the gift shop or relax on the porch and visit with folks from near and far.
After leaving Middletown, the train travels north toward Hummelstown following the towpath of the canal completed in 1827,  much of which is still visible (including canal locks) alongside the peaceful Swatara. The narration tells of other historical artifacts, folklore about Horse Thief Cave, and many more fun facts about the rail line and south-central Pennsylvania.
On the return trip, train crew are available to talk with you, answer questions, and serve you with light refreshments from the on-board snack concession. All proceeds from the snack bar go to preservation of our historic equipment through our "Spare to Repair" program. Your spare change helps maintain our century-old passenger coaches.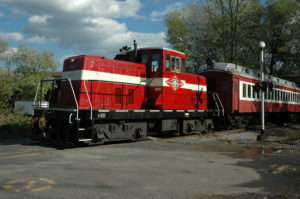 ---
Hope to see you on the train!
---