Welcome to the 2016 Operating Season on the Middletown & Hummelstown Railroad.
_________________________________________________________
For M&H freight information, please click the "FREIGHT" tab above.
____________________
_________________________________________________
 Regular Train Rides for the season have begun! The full operating season runs every Thursday, Saturday, and Sunday through the end of August (EXCEPT 30 & 31 July during special event shown below).

◊ ◊ ◊ ◊ ◊ ◊
Next Sundae Caboose Rides are Sunday 3 July and Sunday 17 July. Enjoy a sweet treat ice cream sundae with your choice of toppings on a vintage caboose. The trip is over track not normally covered on the regular scenic train ride. See "Schedule & Important Information" page for full details and fares.
◊ ◊ ◊ ◊ ◊ ◊
M&H RAILROAD 40th ANNIVERSARY WEEKEND
Make plans now to attend this special once-in-a-lifetime three-day event, Friday through Sunday 29-31 July 2016. Lots of special events for the weekend, lots of different rides, lots of equipment, food, music, lots and lots of photo opportunities. Please go to the "Schedule & Important Information" page for fares and greater details on the event. We hope you'll visit us for this special occasion; we're not gonna do it again for at least 10 years!
+++++++++++++++++++++++++++++++++++++++++++++++++++++++++++++++++++++++++++++++++++++++
Hope to see you on the train!
+++++++++++++++++++++++++++++++++++++++++++++++++++++++++++++++++++++++++++++++++++++++
See 
2016 Brochure
for more information, or click "SCHEDULE" button above to preview train rides and upcoming events for 2016.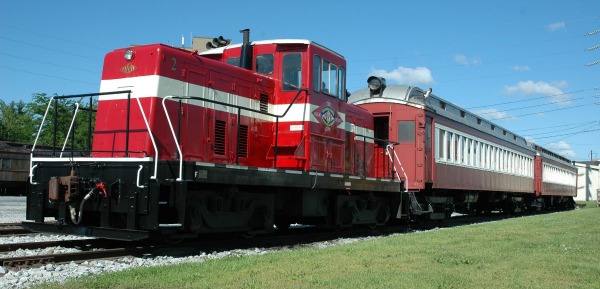 Visitors enjoy an 11-mile round-trip train ride along the Swatara Creek, while learning the history of the area. Passengers board our 1920's vintage Delaware, Lackawanna & Western coaches at our 1891 Freight Station in Middletown, Pennsylvania. Although originally built as a freight station, it has been converted for use as a passenger station, complete with a gift shop and modern ADA restrooms. While in Middletown, you may browse the gift shop or relax on the porch and visit with folks from near and far.
After leaving Middletown, the train follows the towpath of the historic Union Canal and alongside the peaceful Swatara. A live narration relates the history of the canal which was completed in 1827, much of which is still visible, (including canal locks), other historical artifacts, folklore about Horse Thief Cave, and many more fun facts about the rail line and south-central Pennsylvania.
On the return trip, train crew are available to talk with you, answer questions, and serve you with light refreshments from the on-board snack concession.