Who we are: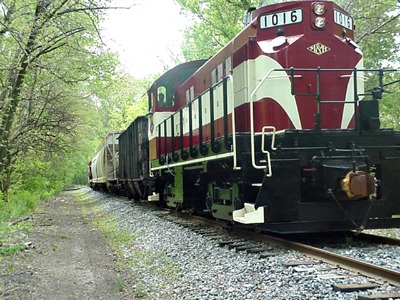 Located in the high growth corridor between its namesake boroughs, the Middletown & Hummelstown Railroad (M&H) is positioned to meet today's service needs and tomorrow's business opportunities in beautiful and historic Central Pennsylvania. Having begun freight operations with one diesel locomotive and two employees in 1976, the M&H now has four such engines and a workforce adequate to maintain infrastructure and provide round-the-clock service to its customers.
The M&H is served by Norfolk Southern Corp. at Middletown via Amtrak's Keystone Line, and at Hummelstown via the former Reading Lebanon Valley Branch.
We're the small railroad with a big heart, dedicated to safe and reliable service.
Location:
The M&H line traverses three great municipalities  in the Harrisburg-Hershey area:
Middletown
Lower Swatara Township
Derry Township

We are located just 10 minutes from Harrisburg, 20 minutes from Lancaster, 30 minutes from York.
 Industrial sites are near all major area highways, with easy truck access to PA 283, US 322, I-81 & I-83, and I-76 (the PA Turnpike). Most feeder roads are fully legal for all standard semi-trucks.
Sites are near desirable residential properties and excellent school districts to attract great employees.
There are currently new industrial properties being developed adjacent to the M&H in Lower Swatara Township, all within 1 mile of PA 283, minutes from other major transportation hubs in Harrisburg. Information may be obtained by visiting www.lowerswatara.org.
The M&H freight offices are located in Middletown, PA. You may contact the freight agent directly by calling 717-944-4435, Ext. 102, or email freight@mhrailroad.com. The freight agent will be happy to discuss your freight rates, service needs, and formulate the best way to serve your individual service requirements.
Interested in Trans-Loading?  Read on…
The Middletown East End Warehouse Complex has track space immediately available for trans-load pads. This Complex also has up to 100,000 square feet of available space for lease which includes an indoor  rail siding sufficient to hold eight to ten rail cars. Excellent site for a plastics manufacturer!
Want to bottom-drop covered hoppers? A pit is immediately available for this purpose in the Warehouse Complex.
A boxcar dock is also currently available, with a capacity of ten 50′ cars or eight 60′ cars. This dock is immediately available for cross-dock trans-loading and/or warehousing. Two van docks are available for this service, with an available building of up to 39,200 square feet including an office space.
Working in conjunction with our Class I rail connection, NS has provided an industrial site data sheet with information provided by the M&H and the Warehouse Company.

 Warehouse

Site Information
Middletown East End Warehouse features a fully-fenced facility with 24/7 gated security on duty.
The M&H is actively seeking trans-load customers who are interested in bulk truck-to-train or train-to-truck facilities. A new Team Track, completed in December 2016, is available in our Middletown Yard. It is designed for direct-connect covered hopper cars, but can accommodate direct-connect tank cars and hopper or gondola cars. Boxcar docks are available at the East End Warehouse a half-mile to the east.
CAT Certified Truck Scales are located just one mile away at the junction with PA 283. A full-service truck stop (Love's) is at this location, complete with a mechanical service center, tire service, and fuel islands.
Interested in surplus car storage?
The M&H has a lower-capacity car storage area (loads or empties) with immediate availability, and is developing a larger car storage area. Store your surplus cars for a week, a month, or a year.
"Staged Positioning" of loaded cars/scheduled shipments can also be accommodated.
Service:
M&H crews are available, around the clock, to meet your needs. In most cases, we can serve your industry inside of a 2-hour call window.
M&H personnel track and expedite your shipments. We are electronically connected to the Transportation Management System, and able to link directly and quickly with nearly all other North American rail carriers. This connection allows us to rapidly process your shipping and other transportation document needs.
M&H people are here to help you, serve you, and safely handle your carloads.
Reliable
M&H people are folks you know who care about what they do.
M&H employees are trained, qualified and supervised in strict compliance with all applicable Federal Standards.
M&H infrastructure is maintained to meet and exceed current Federal Standards.
M&H has earned the "Jake Award" for safety many years running.