---
---
---

---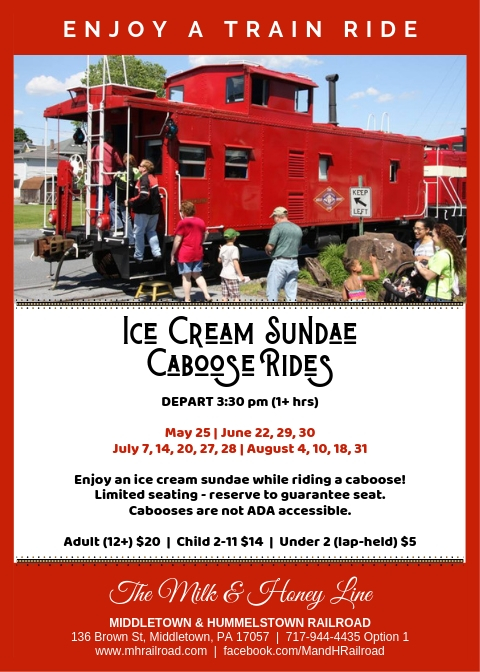 ---
Thursday, Saturday & Sunday 12:00 Noon & 1:30 pm rides are available throughout summer & fall – see Regular Ride Schedule for Dates.
Accepted Payment Methods: Visa and MasterCard. Tickets may be purchased online or by phone. Refunds will be issued up to 14 days prior to the ride; however, a $20 processing fee will be deducted from the refund.
---
WE WELCOME CHARTERS & GROUPS! Daycare & School Groups, Travel Groups, Senior Homes and others, contact our Passenger Agent Office at 717-944-4435 – Option 1
---
COME RIDE WITH US!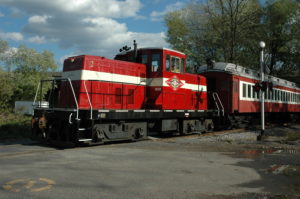 Join us for an 11-mile round-trip train ride along the Swatara Creek. Learn the history of the area, the Union Canal, and the railroad from a live narration. Passengers board our 1920's vintage Delaware, Lackawanna & Western coaches at our 1891 Station in Middletown, Pennsylvania, which was originally built as a freight station and in more recent years converted for use as a passenger station. The Station contains a ticket window, gift shop and modern ADA restrooms.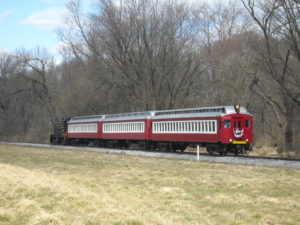 Browse the gift shop or relax on the porch and visit with folks from near and far.
Following the towpath of the canal completed in 1827, the train travels north toward Hummelstown. Much of the canal is still visible alongside the peaceful Swatara. The narration tells of other historical artifacts, Horse Thief Cave folklore, and many more fun facts about the rail line and south-central Pennsylvania.
On the return trip, crew are available to talk with you and answer questions. Light refreshments are available from the on-board snack concession. All proceeds from the snack bar go to preservation of our historic equipment.
---
See you on the train!
---
---