---

 
2019 EASTER BUNNY EXPRESS
Sat, April 13 at 11am & 1:30pm
Sun, April 14 at 1:30 pm only
Fri, April 19 at 11am & 1:30pm
Sat, April 20 at 11am & 1:30pm
The Easter Bunny will join us for an approximate 1-1/2 hour long train ride handing out an Easter treat to all children under age 12, visiting and posing playfully for your pictures and selfies. Listen to live accordion music along the way, and find affordable snacks & cold drinks available on the train (front car). Hop aboard with the Bunny for a fun train ride! Seven rides to choose from!
Gift Shop & Restrooms are available in the Station. For further information call 717-944-4435 Option 1.
Tickets are available for purchase online or by calling 717-944-4435 Option 1. Reservations are recommended but tickets may be purchased at time of ride, subject to availability.
Fares: Adult (age 12+) $18 | Child (2-11) $14 | Under 2 (lap-held) $5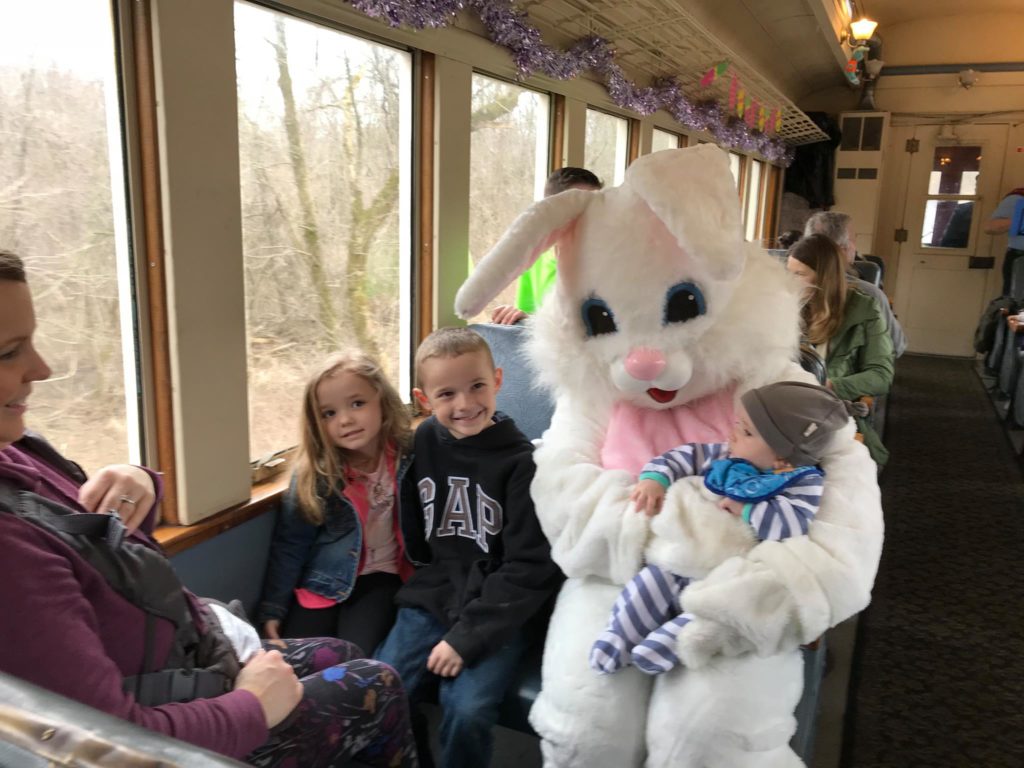 ---
2019 Mother's Day Dinner Train – Limited Seating – Reserve Now!
Sunday, May 12 at 1:00 pm
Mother's Day Dinner Train tickets are now available for purchase online, or make reservations by calling 717-944-4435 Option 1 for reservations, menu items & more details. Visa & MasterCard accepted. $75 per person includes a delicious hot dinner (call for menu items & details), a train ride along the Swatara Creek, and live music by the talented young accordionist Cody McSherry.
Gift Shop & Restrooms are available in the station.
Child-friendly. No alcoholic beverages.
FARE: $75 per person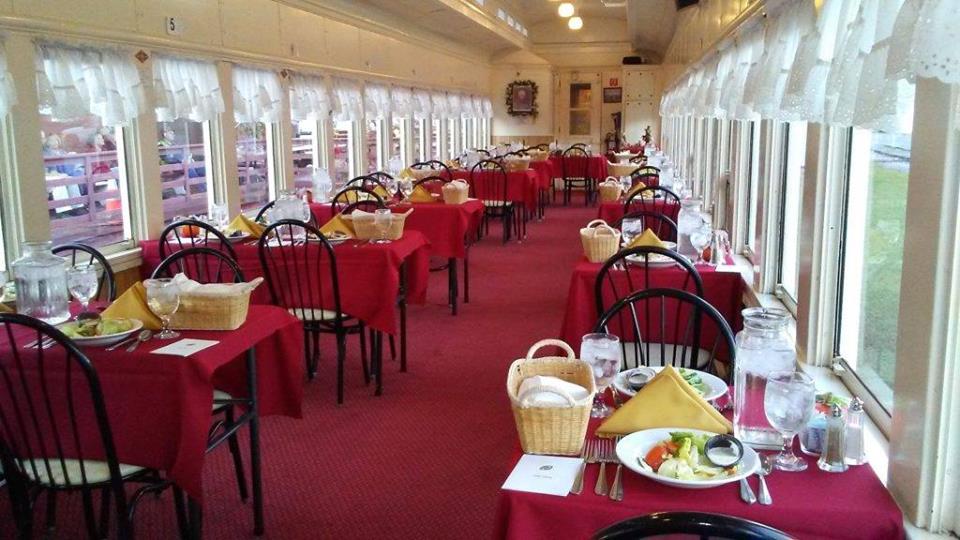 ---
Thursday, Saturday & Sunday 12:00 Noon & 1:30 pm rides are available throughout summer & fall – see Regular Ride Schedule for Dates.
---
---
WE WELCOME CHARTERS & GROUPS! Daycare & School Groups, Travel Groups, Senior Homes and others, contact our Passenger Agent Office at 717-944-4435 – Option 1
---
COME RIDE WITH US!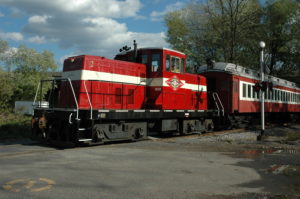 Join us for an 11-mile round-trip train ride along the Swatara Creek. Learn the history of the area, the Union Canal, and the railroad from a live narration. Passengers board our 1920's vintage Delaware, Lackawanna & Western coaches at our 1891 Station in Middletown, Pennsylvania, which was originally built as a freight station and in more recent years converted for use as a passenger station. The Station contains a ticket window, gift shop and modern ADA restrooms.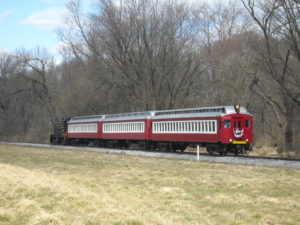 Browse the gift shop or relax on the porch and visit with folks from near and far.
Following the towpath of the canal completed in 1827, the train travels north toward Hummelstown. Much of the canal is still visible alongside the peaceful Swatara. The narration tells of other historical artifacts, Horse Thief Cave folklore, and many more fun facts about the rail line and south-central Pennsylvania.
On the return trip, crew are available to talk with you and answer questions. Light refreshments are available from the on-board snack concession. All proceeds from the snack bar go to preservation of our historic equipment.
---
See you on the train!
---
---