Option 1 for Passenger Service / Rides
2017 REGULAR TRAIN SCHEDULE

No Reservations Required for Regular Schedule Trains

Enjoy an eleven-mile, one hour Round Trip ride on the "Milk & Honey Line," completed in 1890.
DEPARTURES FROM MIDDLETOWN STATION. ROUND TRIP TICKETS ONLY.
MAY
Saturday & Sunday 27th & 28th               Noon & 1:30pm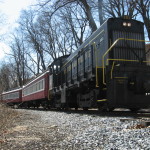 CLOSED Monday, Memorial Day, May 29.
JUNE  
Thursday 15, 22, 29                                    Noon & 1:30pm
Saturday 17, 24                                            Noon & 1:30pm
Sunday 18, 25                                              Noon & 1:30pm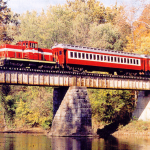 JULY
Thursday 6, 13, 20, 27                                 Noon & 1:30pm
Saturday 1, 8, 15, 22, 29                              Noon & 1:30pm
Sunday 2                                                        Noon & 1:30pm
CLOSED Independence Day July 4.
AUGUST
Thursday 3, 10, 17, 24, 31                         Noon & 1:30pm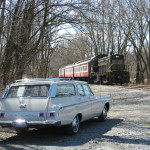 Saturday 5, 12, 26                                       Noon & 1:30pm
Sunday 6, 13, 27                                          Noon & 1:30pm
SEPTEMBER
Saturday 2, 9                                               Noon & 1:30pm
Sunday 3, 10                                                Noon & 1:30pm
CLOSED Labor Day Monday.
Grandparents' Day weekend 9 & 10 — see Special Events section for special pricing for grandparents.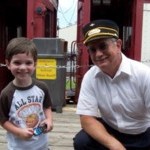 OCTOBER
Saturday 7, 14, 21, 28                                 Noon & 1:30pm
Sunday 8, 15, 22, 29                                   Noon & 1:30pm
REGULAR TRAIN FARES:
Adult (12 – 59 yrs) $15.00
Seniors (60+ yrs) $13.00
Child (2 to 11 yrs.) $10.00
Children under 2 are free if they don't occupy a seat (lap seated)
Due to increasing costs of credit card transactions, there is a $15 minimum purchase for all credit card transactions at Ticket Window & Gift Shop.
HOBO LUNCHES are available (by reservation at least 48 hrs in advance) on the Noon trains only. The lunch includes: Turkey or Ham Sandwich, Chips, Cookies, and Soda or Water in a Bandanna. Add $15.00 to your ticket price for each lunch ordered. To make a reservation, please call 717-944-4435 Ext. 104, Monday through Friday 10am-5pm. Sorry, we cannot take reservations online at this time. PLEASE NOTE: HOBO LUNCHES ARE NOT AVAILABLE ON ANY CHRISTMAS OR OTHER SPECIAL EVENT TRAIN.
ACTIVE MILITARY & MILITARY VETERANS receive $2.00 OFF the Adult or Senior fare. Just show your Military ID to the Ticket Agent. Valid on Regular Schedule trains only; discount not available on Special Event trains.

GIFT CERTIFICATES may be purchased by calling the M&H RR Passenger Agent's office at 717-944-4435 or 877-9TRAIN9, Ext. 104 from 10 am to 5 pm Monday through Friday.
ADA ACCESSIBILITY

The M&H Middletown station features ramp access to the passenger station, ticket office, gift shop, and features a fully ADA accessible restroom facility. Please note however: Our trains are "Historic Equipment" and cannot accommodate motorized wheelchairs, or any wheelchair wider than 25 inches/63cm including the bumpers. If you require further information or assistance, please speak with the reservations clerk ahead of time or see the ticket agent.
---
Trains will operate in all kinds of weather – Cancellations are rare, and are made as a judgement call in conjunction with local authorities and the National Weather Service. We cannot be responsible for the weather, but will make every effort to be accommodating to traveler safety. We suggest allowing plenty of travel time when weather conditions are unfavorable. PLEASE NOTE: Our schedules are adhered to as much as possible; however, the Railroad reserves the right to change schedules or equipment as operating conditions require.