The 

2016 Schedule/Brochure

is available in .pdf form for viewing or downloading.
 IMPORTANT NOTICE TO TRAVELERS:

There is a lot of road work and a bridge replacement taking place in and near Middletown in 2017. Portions of the east-west major route through town – PA 230, Main Street – will have limited traffic flow from time to time. Please slow down in work zones, and allow extra travel time  to reach the M&H station.
ADA ACCESSIBILITY
The M&H Middletown station features ramp access to the passenger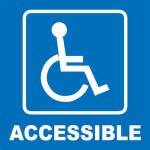 station, ticket office, gift shop, and features a fully ADA accessible restroom facility. Please note however: Our trains are "Historic Equipment" and cannot accommodate motorized wheelchairs, or any wheelchair wider than 25 inches/63cm including the bumpers. If you require further information or assistance, please speak with the reservations clerk ahead of time or see the ticket agent.
2016 REGULAR TRAIN SCHEDULE 

(2017 SCHEDULE COMING SOON)



PLEASE SCROLL DOWN FOR INFORMATION ABOUT SPECIAL EVENT TRAINS.

Departures from Middletown Station Only
MAY
Saturday & Sunday 28th & 29th               Noon & 1:30pm
CLOSED Monday, Memorial Day, May 30.
JUNE  
Thursday 16, 23, 30                                    Noon & 1:30pm
Saturday 18, 25                                            Noon & 1:30pm
Sunday 19, 26                                               Noon & 1:30pm
JULY
Thursday 7, 14, 21, 28                                 Noon & 1:30pm
Saturday 2, 9, 16, 23                                    Noon & 1:30pm
Sunday 3, 10, 17, 24                                     Noon & 1:30pm
CLOSED Independence Day July 4.
AUGUST
Thursday 4, 11, 18, 25                                Noon & 1:30pm
Saturday 6, 13, 20, 27                                Noon & 1:30pm
Sunday 7, 14, 21, 28                                   Noon & 1:30pm
SEPTEMBER
Saturday 3, 10                                            Noon & 1:30pm
Sunday 4, 11                                               Noon & 1:30pm
CLOSED Labor Day Monday.
Grandparents' Day weekend 10 & 11 — see Special Events section for special pricing for grandparents.
OCTOBER
Saturday 1, 8, 15, 22, 29                           Noon & 1:30pm
Sunday 2, 9, 16, 23, 30                             Noon & 1:30pm
NOVEMBER & DECEMBER
Special Event trains only… Scroll Down, Please.   No Regular Schedule Rides these months.
 
REGULAR SCHEDULE TRAIN FARES
Enjoy an eleven-mile, one hour Round Trip ride on the "Milk & Honey Line", completed in 1890. All trains leave from the Middletown Station only. A live narration is given along the way, pointing out various historic locations along the railroad as well as "fun facts" of local history and the general area.
We sell round trip tickets only.
===========================
»»»»   Due to the increasing costs of credit card transactions, there is a $15.00 minimum purchase for all credit card transactions at the Ticket Window and the Gift Shop.  ««««
===========================
REGULAR TRAIN FARES:
Adult (12 – 59 yrs) $15.00
Seniors (60+ yrs) $13.00
Child (2 to 11 yrs.) $10.00
Children under 2 are free if they don't occupy a seat
HOBO LUNCHES are available (by reservation at least 48 hrs in advance) on the Noon trains only. The lunch includes: Turkey or Ham Sandwich, Chips, Cookies, and Soda or Water in a Bandanna. [Add $15.00 to your ticket price for each lunch ordered.] To make a reservation, please call 717-944-4435 Ext. 104, Monday through Friday 10am-5pm. Sorry, we cannot take reservations online. HOBO LUNCHES ARE NOT AVAILABLE ON ANY CHRISTMAS OR OTHER SPECIAL EVENT TRAIN.
ACTIVE MILITARY & VETS receive $2.00 OFF the Adult or Senior fare. Just show your Military ID to the Ticket Agent. Valid on Regular Schedule trains only; discount not available on Special Event trains listed below.

GIFT CERTIFICATES may be purchased by calling the M&H RR Passenger Agent's office at 717-944-4435 or 877-9TRAIN9, Ext. 104 from 10 am to 5 pm Monday through Friday.
================================================================================================================================================
SPECIAL EVENT TRAINS
All Special Event Trains Are By Reservation Only.
Hobo lunches are NOT available on Christmas trains or any other Special Event ride.
Coupons and special discounts do NOT apply to any Special Event Trains unless otherwise specified.
If a special event train sells out, there will be assigned seating.
If you intend to come with friends, please let the reservations clerk know the last name of the other people with whom you would like to be seated.
Dinner train seating is usually 4 or 6 people per table. If you have more than 4 or 6 people in your party, we will seat the other members of your party nearby.
MAKING RESERVATIONS
Reservations must be made at least 48 hours prior to the date of the
train event you wish to ride. No reservations can be accepted the day of the ride. The reservations clerk is typically available Monday through Friday, 10am to 5pm, special event days, weekends, and holidays excluded, at 717-944-4435 or 877-9TRAIN9, extension 104. Payments accepted with Money Order, VISA or MASTERCARD. Refunds will be issued up to 14 days prior to the ride; however, a $20.00 processing fee will be retained. Sorry, we are not able to accept online reservations due to banking policies.

———————————————————————
EASTER BUNNY EXPRESS
See the Easter Bunny again in 2017!                         Romans 1: 4

———————————————————————
"SUNDAE" CABOOSE RIDES
Sundae Caboose rides are now done for 2016, and will begin again in June 2017.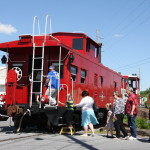 Departure time from Middletown is 3:30pm sharp. Ride in an authentic caboose, just the way they were when the trainmen used them in the days of old. These are actual restored-to-original cabooses, with original seating. Large groups may not be able to sit together. Passengers receive a sweet treat Ice Cream Sundae with your choice of toppings during the trip. (One sundae per passenger)
FARES: Adult (12+)… $19                 Child (2-11)… $13
Empty seats, if any, will be sold to walk-up passengers on a first-come-first-serve basis. Seating, because of the authentic nature of the cabooses, is very limited. Sundae Caboose Rides are NOT ADA-Accessible because of the originality of the cabooses.
———————————————————————
Hope to see you next year, too!                                  John 3: 16-17
——————————————————————–
TEDDY BEAR EXPRESS (1-1/2 – 2 hours)
The folks enjoyed the trip this year, we'll make it even bigger next year. Teddy will be back in '17!
Something new for 2016: Come and visit with Teddy the Engineer Bear. He has a special gift for every child on the train. Remember to bring your camera as you make new family memories!
Fares: Adult (12+)… $17    Child (2-11)… $13   Child (under 2)… $4
——————————————————————–
GRANDPARENTS DAY WEEKEND                                                                                                                                          
Lots of wonderful grandparents and grandkids. Even a six-generation family rode with us! Hope you'll plan to bring the family out in 2017.
Noon and 1:30pm
To honour our grandparents on this special weekend, Grandparents receive a special fare of $5 each when riding with grandchildren paying the regular schedule fare. May not be combined with any other discounts. Reservations recommended.
——————————————————————-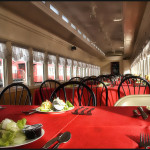 MURDER MYSTERY DINNER TRAINS   (Trips last about 3 hours)
All the food has been eaten, and the bad guy is on his way to Graybar Motel. Try again next year when more dastardly deeds are afoot.
Departs Middletown at 6:00pm sharp.

Dinner and a mystery on board the train, and you're the sleuth! Enjoy a delicious hot meal served at your table while you ponder the clues to figure out whodunnit. It's a mystery, but it's no mystery that someone wins train tickets for another M&H regular-schedule ride. Each of the four days features a different theme, so for those of you who are really a Holmes & Watson, come and try to solve all four! Your fare covers your train ride, meal, and entertainment (gratuities not included). Not recommended for children.               Adult Fare (age 15 and up) is $65.
RESERVATIONS MUST BE MADE BY THE CLOSE OF BUSINESS ON THE MONDAY PRIOR TO YOUR TRIP TO GUARANTEE MEAL CHOICE.
——————————————————————
PUMPKIN PATCH TRAIN RIDES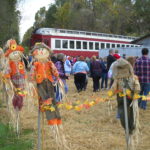 (1-1/2 to 2 hours)
Somebody done went and pikked all the punkins! The scarecrows'll bring some more next year. See you then!
Train goes out the line to a field where all the children may get off of the train and pick out their own pumpkin. Don't forget your camera to record the memories of the day and those specials pics with the scarecrows and Raggedy Ann! (Check the sky before you come… Please wear weather-appropriate clothing and shoes). Children 11 and younger are encouraged to come in costume.
Fares: Adult (12 and up): $17, Child (2-11): $14, Child (under 2): $4
——————————————————————–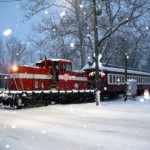 SANTA'S SURPRISE TRAINS       (1-1/2 to  2  hrs)
Santa emptied his big bag of goodies to hundreds of happy children on the trains this year. He'll be back next year around the same time with another sack full of fun and surprises. Jolly Old Elf will be happy to see you then!
Santa visits on board with gifts for the children (infants through 11 yrs). Bring a camera for pictures with Santa. Empty seats, if any, will be sold to walk-up passengers on a first-come-first-serve basis. Hobo lunches are not offered on Santa's Surprise Trains.  Adult Fare (12 yrs +) $17.00; Child Fare (2-11 yrs) $14.00; Infants (lap child under 2 yrs): $4.00
Reminder: RESERVATIONS ARE REQUIRED. Thank you!
———————————————————————
For unto us a Child is born…                 Isaiah 9: 6-7
———————————————————————
POLAR BEAR EXPRESS      (1-1/2 to 2 hrs)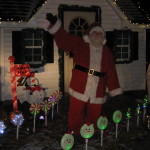 The polar bears skee-daddled back to the Arctic. They complained that it was too warm here! Santa will coax them back for another visit in 2017.
We're leaving for the NORTH POLE to find SANTA. The Conductor shares a special Christmas story with the children. At the North Pole, Santa will board the train with a gift for every child (infant through 11 yrs.). Have your camera ready for pictures with Santa! Hobo lunches are not offered on Polar Bear Express trains. Adult Fare (12 yrs +): $20.00; Child Fare (2-11 yrs):$15.00; Infants (under 2 yrs held on lap): $4.00.
EARLY RESERVATIONS STRONGLY RECOMMENDED – MOST POLAR BEAR EXPRESS TRAINS SELL OUT THREE WEEKS IN ADVANCE.

RESERVE EARLY.
++++++++++++++++++++++++++++++++++++++++++++++++++++++++++
Trains will operate in all kinds of weather – Cancellations are rare, and are made as a judgement call in conjunction with local authorities and the National Weather Service. We cannot be responsible for the weather, but will make every effort to be accommodating to traveler safety. We suggest allowing plenty of travel time when weather conditions are unfavorable.
++++++++++++++++++++++++++++++++++++++++++++++++++++++++++
PLEASE NOTE: Our schedules are adhered to as much as possible; however, the Railroad reserves the right to change schedules or equipment as operating conditions require.